Acupuncture Becomes a Medical Science with the help of Neuroscience. (1)
Scientific Research of Acupuncture Has Started
In November 2017, SEIDO association has started a scientific research project to validate the efficacy of acupuncture with Hokuto hospital in Hokkaido.
Starting a scientific research project of acupuncture was one of the purpose of establishing SEIDO association.
By gaining the cooperation of Hokuto hospital, the project has been proceeding with unexpected high speed.
An Urge for Scientific Research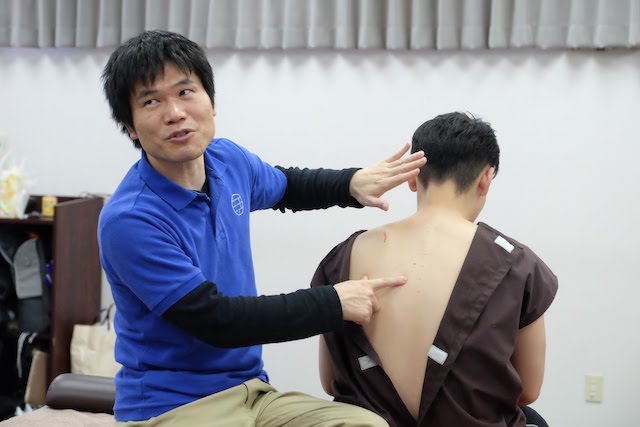 SEIDO association provides SEIDO acupuncture which is an original systematized acupuncture technique.
When an acupuncture point which SEIDO acupuncture specifies with a millimeter unit of precision is needled, changes will be observed at specific parts of a body almost certainly.
For example, when one of SEIDO acupuncture's original point 六谿 is needled, ROM of neck rotation improves with very high probability.
Every time I use SEIDO acupuncture in my clinical practice; because of its high reproducibility, I feel that there must be scientific logics of human body which has never been revealed yet.
By clarifying these logics, we can gain a new theory of human body which puts acupuncture points and body motion in the core.
We were seeking a path to the scientific research, because we thought that gaining this new theory of human body would lead to further development of not only acupuncture but also a medical field as a whole.
Our Partner : Hokuto Hospital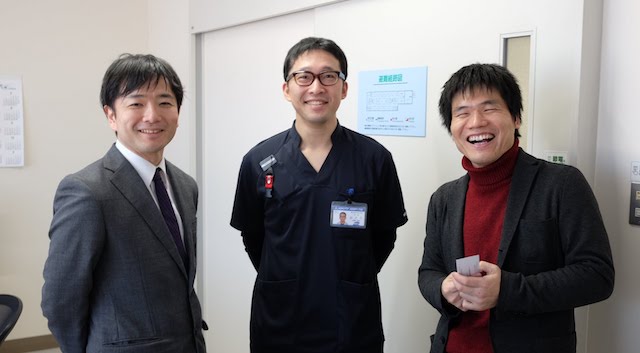 ▲Left : Yachi  Center : Dr.Kato  Right : Kurihara chairman 
The project leader is Dr. Kato of Hokuto hospital. He is a pathologist and specializes in cancer research. After graduating the medical school of Hokkaido university, he studied in Harvard medical school. He joined Hokuto hospital last summer.
When someone comes up with a new idea, set up a team right away and start immediately.  This is the Harvard style.
It took less than 1 month to gather the first experimental data, since Dr. Kato came up with this project idea.
In addition to Dr. Kato's ability, the unique characteristic of Hokuto hospital contributes to this extraordinary high speed.
It is not rare to take 2 to 3 years to gather the first experimental data in Japan, because of time consuming budget and approval processes, even if someone has research ideas.
Even though Hokuto hospital is a large hospital, its management style is very unique and challenging. Approval processes are kept short and quick. When someone comes up with revolutionary ideas about medical research, a project can be launched immediately.
This is the reason why our project has been proceeding rapidly.
Device to Measure Brain Activities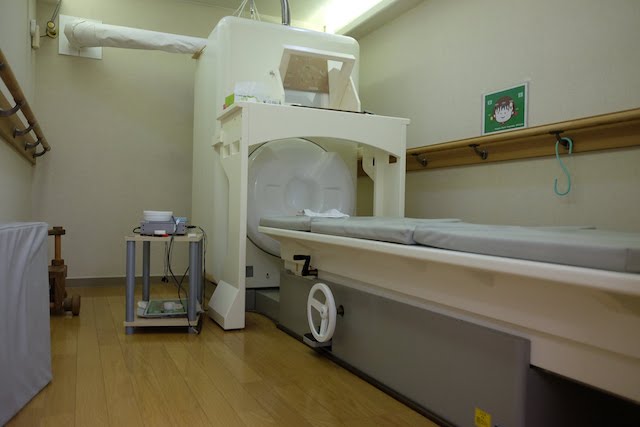 ▲MEG to measure the magnetic fields produced by neuronal activity in the brain
MEG (Magnetoencephalography) is used for our project. MEG is an imaging technique which measures the magnetic fields produced by neuronal activity in the brain.
MRI is commonly used for brain researches.
Whereas MRI measures a shape of brain, MEG measures activities of brain.
Because MEG measures activities of a brain, MEG suites better with acupuncture which improves activities of human body.
However, there are not many MEG specialists who can handle the device and analyze complex and enormous amount of data.
Luckly, Hokuto hospital has a MEG specialist Dr. Shigihara who had worked in London University, which leads the world in MEG research.
Dr.Kato talked about the acupuncture research project to Dr.Shigihara, and it drew Dr.Shigihara's interest. 
Evaluating Efficacy of Acupuncture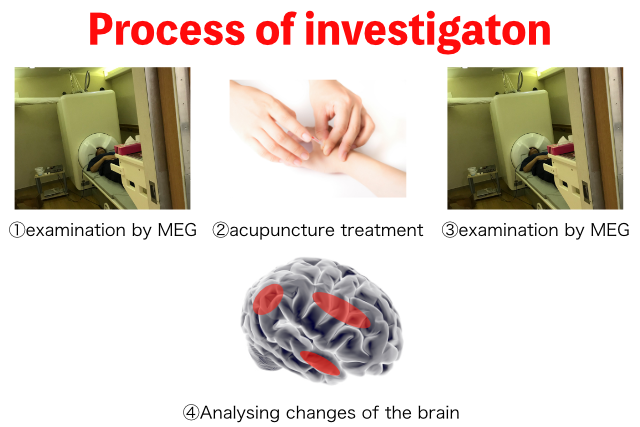 Our research model is quite simple.
First, measure the brain activities of a client with symptoms with MEG.
Next, give an acupuncture treatment and alleviate the symptoms.
Lastly, measure the brain activities again with MEG and compare the data.
We are scientifically analyzing and evaluating the efficacy of acupuncture with these 3 simple steps.
Scientific analysis means quantification.
Quantifying efficacy of acupuncture means a lot for the future of acupuncture.
==================
To be continued…
Acupuncture Becomes a Medical Science with the help of Neuroscience. (2)